You might wonder why bother purchasing a body oil when you have your body lotion sitting right in front of you. And besides, why would you want to apply something oily and greasy onto your skin? Well, this is how most people might perceive body oils to be and the truth is that they are exactly the opposite. Body oils, especially the natural and organic ones provide great benefits to your skin.
Why use body oils?
Since oil is protective in nature, it helps to lock in moisture and keep your skin hydrated. Dry skin can also be repaired by using body oil. Over time your skin will not be able to retain moisture very well and this is when body oils turn out to be a saving grace. Read on for the list of the top ten best body oils available at present:
10. Organic Radha Jojoba Oil for Face and Hair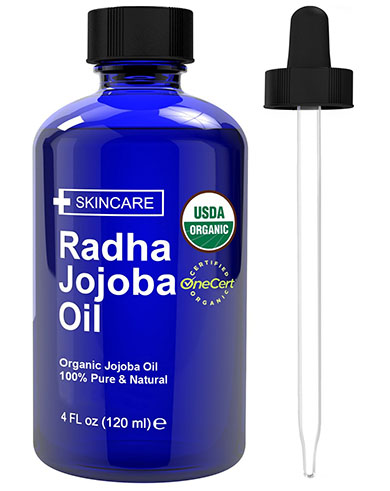 Buy now from Amazon
The golden jojoba oil is made available to you in its natural and pure state. You can therefore be assured that you aren't using any chemicals or preservatives while caring for your skin and hair. This oil is packed in a dark blue bottle to ensure that the oil does not get affected by light. This easy-to-absorb jojoba oil will leave your skin feeling moisturized and healthy.
9.

Neem Oil Organic & Wild Crafted Pure Cold Pressed Unrefined Cosmetic Grade 12 oz for Skincare, Hair Care, and Natural Bug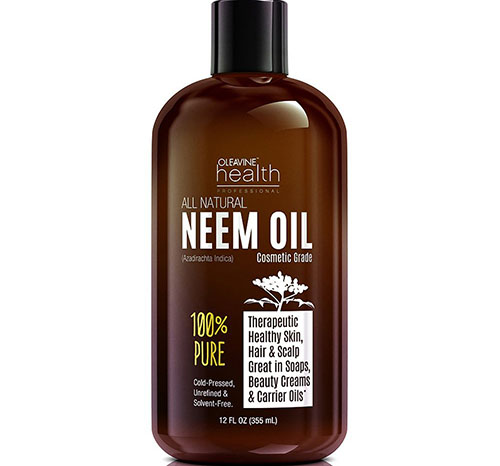 Buy now from Amazon
Totally multipurpose, there is not much that this organic neem oil doesn't take care of. Since it is packed with antioxidants, fatty acids and Omega 6; get ready to say goodbye to dry skin, skin irritation and frizzy hair. Additionally it will keep you safe from bugs as it acts as a repellent. If that's not enough, it can even be added in your pet's shampoo.
8. Sweet Almond Oil by Sky Organics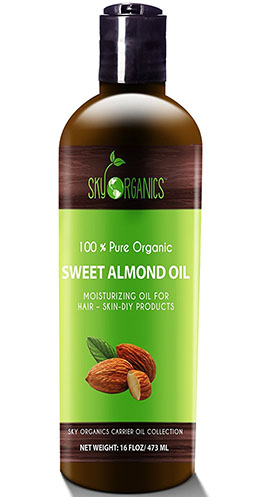 Buy now from Amazon
Obtained from seeds or fruits, this cold pressed almond oil is loaded with essential vitamins, proteins, antioxidants and fatty acids. Since it is free of chemicals and additives, it can be used for your baby as well. It reduces dark circles, soothes skin rashes, heals nails, promotes healthier hair and of course it hydrates your skin. You can use this almond oil by itself or mixed with other body oils as well.
7. Bio-Oil,

Multiuse Skincare Oil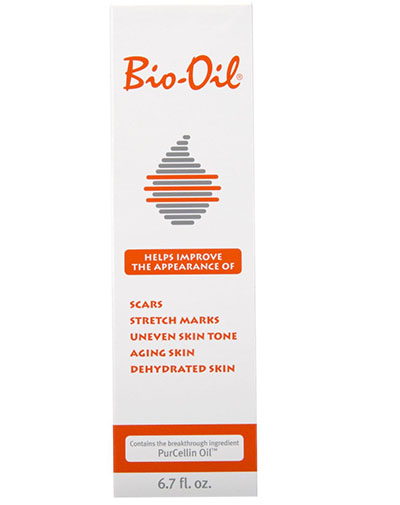 Buy now from Amazon
If you have been looking for a way to get rid of your stretch marks, Bio-oil is the answer. Besides stretch marks, Bio-oil is also used to repair skin that is dry, in need of hydration, that is aging etcetera. This non-greasy oil can be used on all types of skin and therefore those with sensitive skin need not think twice when purchasing this body oil.
6. Ancient Minerals Magnesium Oil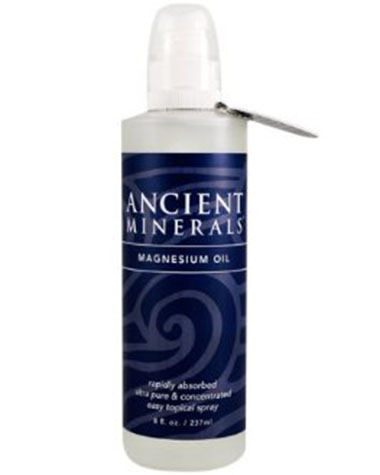 Buy now from Amazon
This natural body oil is rich in magnesium which helps do wonders for your skin. It can be rubbed or sprayed into the skin for your convenience. The magnesium oil absorbs quickly into the skin without leaving a greasy residue. Using this oil you can ensure that your skin remains protected all the time. Additionally it relieves aches, pains and stress.
5. Essential Oil Variety Set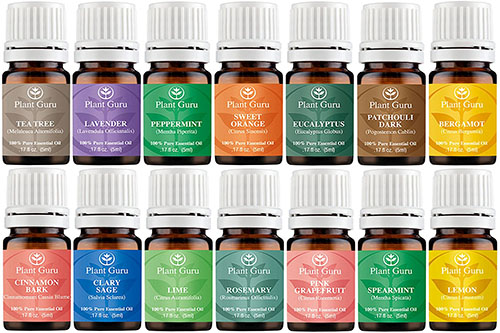 Buy now from Amazon
Essential Oils have always kept quality as their top priority and hence stand out in the market. These body oils that are extracted from plants, come in a variety of over a hundred essential oils like Rosemary, Tea Tree, Lemon etcetera. It is completely natural and does not use any synthetics or chemicals.
4.

doTERRA Lavender Essential Oil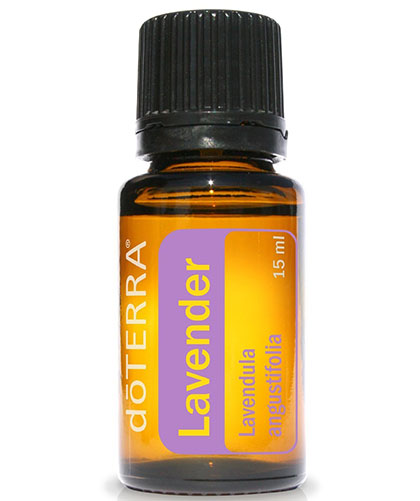 Buy now from Amazon
The doTERRA Lavender essential oil is known to be helpful in promoting stress relief due to its calming properties. Skin irritations are also taken care of by this body oil. It also allows you to have a good night's rest and therefore assist you in relaxation. Besides your body, you can add a bit in your bath water or on your pillow to get you in a state of ease and peace.
3. Organic Castor Oil by Sky Organics

For Dry Skin, Hair Growth – For Skin, Hair Care, Eyelashes – Caster Oil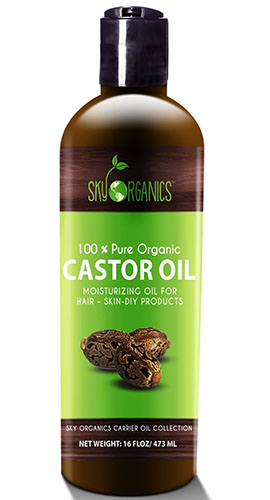 Buy now from Amazon
Castor oil has been known for its benefits to the skin and hair. This body oil by Sky Organics uses natural castor oil without the addition of any chemicals and artificial heat to produce the most organic castor oil. Since it is natural and organic, it works well on all skin types and helps relive skin of any irritation or rash. This castor oil helps moisturize the skin and nourish hair effectively.
2. Now Solutions Sweet Almond Oil,

Moisturizing Oil


Buy now from Amazon
NOW Solutions has come out with its Sweet Almond Oil that is purely aimed to moisturize and hydrate all skin types. The vitamins in this oil are easily absorbed by the skin and thereby promote healthy and nourished skin. It helps make skin soft and supple.
1. Doterra Breathe Respiratory Blend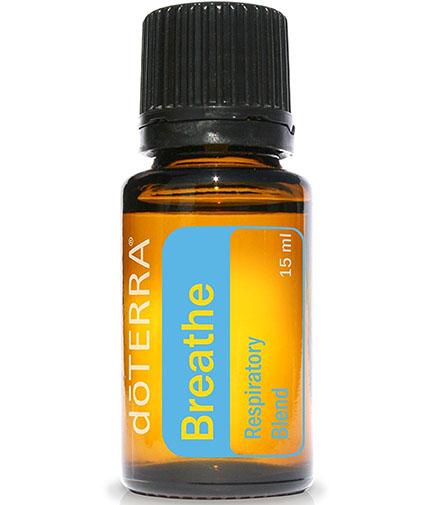 Buy now from Amazon
As the name suggests, doTERRA allows you to have a relaxed sleep all through the night with its Breath Respiratory Blend essential oil. You can rub it on your chest, back or feet before sleeping to ensure a tension free sleep. You can also rub it on your palms and inhale it whenever required. This oil promotes easy breathing along with its other benefits and is therefore at the top of the list.
These are the best body oils in the market and you would be doing your skin a massive favor by getting one of these for yourself. After all when it comes down to taking care of your skin, a little effort on your part will go a long way to ensuring healthy and moisturized skin. And besides since most body oils are multipurpose, you would be taking care of your skin along with your hair. It is literally a win-win!
Save